Caravan Camping Blog
Sharing our thoughts, ideas and tips with you to make your caravanning and camping more fun and exciting
Getting Ready for Winter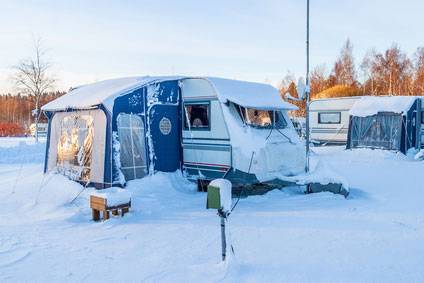 Getting Ready for Winter
So it's that time of year again and time to get the caravan ready for winter, if you have not already done so. We use ours all year round normally so this isn't so much of a problem to us. This year, however, we have a few weeks were the 'van isn't going to be used over the winter months. All around us on the storage site caravans are starting to sport the latest fashion accessory and are wrapping up in their green cloaks
Here at Caravan Camping Supplies we follow a list which lets us get ready pretty quickly. We thought you might like it if we shared with you.
Let's start with cleaning down
First beautiful day outside, we give it a scrub not forgetting the roof which always seems to get particularly dirty over the year with tree sap and so on. I was a little ashamed of mine with its pattern of greys building up, so gave it a really good going over to get it back to its "as new" look.
Covering up
Making sure the 'van has dried completely you need to think about whether or not you are going to invest in a cover. Breathable covers are best and on nice days if at all possible, you can open and loosen the cover to let some air in. You are looking for the best possible combination of keeping off the worst of the weather and allowing paint and metalwork to dry off, as well as reducing condensation.
Parking up
While we are on the subject of the outside, a useful tip to remember when parking your unit up is to chock the wheels and release the handbrake if you have the advantage of flat ground. This will stop your brakes seizing. If you're not using a cover, try to leave the nose angled slightly downwards to encourage water to run off the caravan.

Cleaning the inside
Inside, clean, Cupboards and all storage areas need cleaning within an inch of their lives, not forgetting the cupboard under the cooker, which often gets forgotten. Get the hoover in there to be sure all crumbs are gone. Remove any foodstuffs too. We don't want to encourage little furry friends in for the winter. As you finish each cupboard, leave cupboard doors open for extra ventilation. It's worth it despite the bangs to the shins and other parts of your body when you forget!
External lockers also need emptying, cleaning and tidying. Throw away any bits and bobs that have accumulated in there over the year. Ours is always full of bits that we think we might just need and never do. If you can't remember the last time you used it then throw it. At minimum, take it out of the caravan to store somewhere else.
Soft furnishings
Cushions and all soft furnishings need to either be taken home or moved away from the caravan walls. Yet again, air flow. Take home all scatter cushions, pillows, quilts, blankets and towels.
Refrigerator
Clean out the fridge and ensure it is dry; I wedge a tea towel over the freezer door to keep that open too, allowing a proper air flow. A good way is to leave the fridge on catch on so that stays open as well.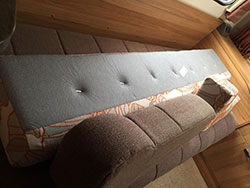 Gas and electricity
Disconnect the gas completely, making sure to burn any off in the pipes. Either take home your battery or invest in a solar panel and trickle charge it. There are some really good solar panels out there so it can pay off to shop around.
Drain down
Drain down your water tanks completely and leave your taps in the open position. The tap for the hot water storage also needs draining down too. This tap is normally located next to your heating unit. Try pouring a little anti-freeze down your drains too. Something we've never done but read about it recently so will give it a go this time. Just remember when you take your caravan out again for the first time close all your taps again.
Ensure that your flush tank is completely empty and that you've left the slider on your loo in the open position, lubricating the rim if at all possible.
Waste water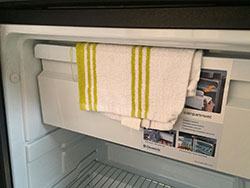 As far as possible you need to get your waste water tank and aqua roll dry. Taking them home too if you can, leaving the lids open to stop them going stale.
Blinds and curtains
Leave your blinds open and close your curtains. This helps with the tension on your blinds. Our blinds have tension problems at the minute so that's a job for the spring.
Check your tyres
Tyres can also be an area of consideration but involves a level of knowledge and expertise not required in the above items. Some caravanners will go to the lengths of removing tyres but the vast majority doesn't, so appropriate checks would need to be done before your first trip out as you would with any vehicle.
Use it
Now here is our best tip to clear away the winter blues and to look after your unit. Just use it, enjoy a winter break somewhere on a site close to a warm inn. After all, a caravan's not just for summer.
&copyCaravan Camping Supplies