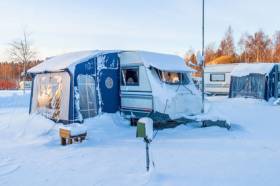 Getting Ready for Winter
So it's that time of year again and time to get the caravan ready for winter, if you have not already done so. We use ours all year round normally so this isn't so much of a problem to us. This year, however, we have a few weeks were the 'van isn't going to be used over the winter months. All around us on the storage site caravans are starting to sport the latest fashion accessory and are wrapping up in their green cloaks
Here at Caravan Camping Supplies we follow a list which lets us get ready pretty quickly. We thought you might like it if we shared with you.
Let's start with cleaning down
First beautiful day outside, we give it a scrub not forgetting the roof which always seems to get particularly dirty over the year with tree sap and so on. I was a little ashamed of mine with its pattern of greys building up, so gave it a really good going over to get it back to its "as new" look.
...
&copyCaravan Camping Supplies