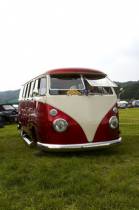 Sssssshhhhhhhh dont tell anyone but I used to drive a VW Campervan and well, I didn't like it! I found it noisy, unreliable, dog slow and not really comfortable.
Now I know this is some kind of heresy. My son adores them. He even went to his wedding in one. He and I have many a time sat and argued about them, but I still can't like them.
Now we have that out of the way, we thought we should contribute something to the story of the long-lived "Hippy Bus" which finally came to an end last year for safety reasons.
...
&copyCaravan Camping Supplies