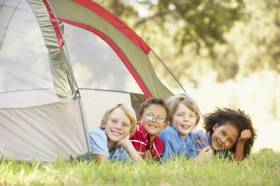 The content for this blog came out of another argument we had in the office about whether camping or caravanning is better. Steve and Pete think caravanning is better and laugh at me for preferring a tent. But before I go off on another of my rants about "towing all that stuff behind you", I will move on to the point, which is the wonderful introduction to outdoor life you can give your children by taking them camping.
There can't be many of us who did not nag our parents to allow us to pitch a tent in the garden when we were little. maybe many of you can also remember the joy of being taken "proper camping" for the first time. In my family's case, this involved driving from the Midlands to West Wales with my father deciding that this was best done overnight to avoid the traffic. This was in the days when you could still put children almost anywhere and I can remember travelling half asleep with my brother and sisters squeezed in all ways around me.
The big thrills were to come. Dawn on the road down towards Aberystwyth, a road that seemed to wind in endless and fascinating loops that were enormously exotic to someone from the flatlands of the near Coventry; the unending nature of the journey - minutes seemed to drag on forever; shivering over a bacon sandwich that my father insisted on cooking by the roadside in the morning; and the thrill of our first glimpse of the sea at the end of the valley.
...
&copyCaravan Camping Supplies